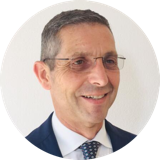 PAOLO BATTAGLIA
Co-Founder, CEO
Paolo has over 20 years of experience in International Sales & Marketing Management for U.S. and European companies operating in the Medical Device field, Hi-Tech Healthcare Capital Equipment and Connecting Health markets.
He was VP Sales and Marketing for Europe at Stereotaxis Inc., a US company, manufacturing a Robotic System for Interventional Electrophysiology.
Previously, he was Sales Director for Europe and Member of the Strategic US Corporate Board for  the development  of  new products in Boston Scientific and, Country Sales Manager for Italy for Biosense Webster (a JNJ company)
PATRIZIA BIANCHI
Co-Founder, CFO & HR Advisor
She graduated in Economics – Business & Law and began her career as Finance & Payroll Manager, afterwards she focused on Human Resources area.
She held HR Manager positions in several Multinational Corporation such as Boston Scientific, Maersk Sealand and Bosch Rexroth. She dealt with labor legal area, remuneration packages, recruiting, training, performance assessment and Corporate HR projects.
Then she moved to consultancy, while collaborating with Frezza & Partners, she managed Executive Search, talent development plans and HR Strategic advisory for international companies operating in the biomedical field.
She furthered her education obtaining the "Executive Master in strategic HR Management" by "Il Sole 24 Ore".
She got the Federal Diploma as "Personnel Assistant" in Switzerland where she currently carries out activities in the field of Human Resources as well as managing controlling and accounting tasks.
As a founding member of Accumed, she provides her professionalism for our Corporate Customers.
GIOVANNI FRANCHI
PARTNER
Giovanni is an Expert in Fast Moving Consumer Goods and Pharmacy for Health and Personal Care products and in management of Private Health Clinics.
He developed a long career at the highest  levels for italian and multinational companies, some of them owned by Private Equity Funds, where he successfully managed all the growing processes of the company from start-up level to remarkable  position in the market. He also successfully managed both organizational and financial restructuring projects.He was CFO in DifaCooper (Pharmaceuticals), CEO in Oral-B / Gillette (oral care products), Director Europe and Middle East in SunStar Butler (oral care products), CEO in Zepter International (manufacturing Company), CEO in Sirc Natural and dietetic Food (manufacturing and distribution of Food Supplements).
As entrepreneur, he gained ten-year experience in the direct management as CEO of private health Clinics.Today, he's dealing with restructuring project as interim manager and as management consulting for Private Equity Funds.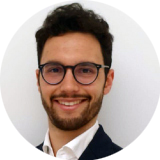 LUCA BATTAGLIA
PARTNER
Luca is a Management Engineer.
He has a consolidated experience in business process optimization and digitization.
He has been actively contributing to companies' digital transformation and innovation process, both in public and private sector.He worked at Municipality of Milan as Staff Deputy Major for Digital Transformation. Then he moved to Edison, one of the main energy companies in Italy, as Digital Specialist.For Accumed he is doing an apprenticeship to obtain the qualification of PRRC (Person Responsible Regulatory Compliance) in Switzerland.
GERHARD FRÖMEL
PRRC Advisor